Camping at home during lockdown
Following advice from the Government on the response to the Covid-19 coronavirus outbreak and avoiding non-essential travel, we took the very difficult decision to postpone the opening of Trevornick Holiday Park. We do not know currently when we will be able to re-open, but in the meantime, we want to help you to stay positive during this time. Seeing as you can't come to us for a camping getaway, why not go camping at home during lockdown.
If you're lucky enough to have a garden during this time, it's time to turn this into your own mini campsite! Not only will you get to enjoy the camping experience you were wishing for this April/May but it's a great chance for you to bond with your family; create something for the children (…and adults) to get excited about.
Accommodation
First things first you'll need a tent, whether it be pop up, manual or you if you don't have one, build your own using a few chairs and a bed sheet- one of the great things about camping at home is that you can just go inside if your tent falls down! Next is to make your tent a little more homely, we're talking pillows, duvets, fairy lights, the whole shebang! Then, once you're happy with your retreat, it's time to go exploring.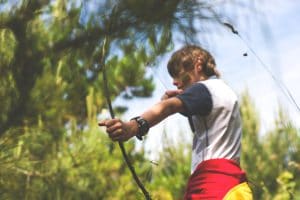 Exploring
There are so many interesting things that can be found in your own garden. See what new things your explorers can find on their expedition, from different types of insects and birds to flowers and leaves. A magnifying glass or binoculars are sure to add an element of fun to the adventure.
Go Golfing
If you're missing Holywell Bay golf course, get practicing in your own garden and you'll be more than ready to hit to golf course. There are some great mini golf sets available online or if you already have your own set of clubs, practice your putting and you'll be sure to ace our golf courses. If you're not a keen golfer there are loads of fun DIY outdoor games which are sure to keep the family entertained while camping at home.
Great Food
After all of this fun, you've probably worked up an appetite. There's nothing quite like cooking over an open flame in the great outdoors. It's time to bring out the barbeque. Mouth watering hotdogs, burgers and chicken are sure to keep the whole family happy. And afterwards it's time for a sweet treat. S'mores are a delicious desert which is easy to throw together. You don't need a campfire to pull off this treat, check out this great recipe we found here. 
Family Games
It's time to break out the games. Whether it be a classic board game, card games, a treasure hunt or even eye spy. Games are a great chance for some family time, distract the kids from their phones and the TV to enjoy some time together.
As the sun sets and the world falls into darkness, this raises another opportunity for some fun. Enjoy the night sky with activities for the children. As the little ones have fun counting the stars and drawing the constellations, the older children can identify those constellations. Torches are good for more than just lighting a path through the dark. Use the light to create shadow puppets on the tent walls or create a game of flashlight tag.
Although this may not be the camping holiday that you were hoping for, we hope that we have inspired you to enjoy a mini family break while adhering to social distancing and lockdown rules. We hope that you can return to Trevornick holiday park again soon so that we can enjoy a Holiday in Newquay together. But for now, stay at home and stay safe.