Pet Friendly Holidays in Cornwall
Situated on the South West Coast Path and nudging the open grassland of Cubert Common, Trevornick is perfectly situated for dog walks along the coast and through the countryside.
The Cornish coast is the perfect place to bring your pooch with over 250 miles of coastal paths, 100 pet-friendly beaches, plenty of cosy pubs, cafés and family attractions where dogs are welcome, wagging tails are guaranteed!
Our 5 favourite dog walks
We've gathered a list of our top 5 dog walks for you to explore when staying at Trevornick this summer. Hike over the cliffs to Perranporth and Polly Joke or wander through Ellenglaze's wildflower meadows, there are lots to discover.
Holywell Bay
Wind through Trevornick, over the golf course and down through the sand dunes to Holywell Beach for a breathtaking view of Cornwall's famous bay as seen on Poldark! Perfect for dogs all year round, they can dip their paws in the sea and sand as the family relaxes with a picnic and an ice cream.
Walk down through the Holywell Bay Golf Course at Trevornick to Holywell Bay over the sand dunes.
Polly Joke
Follow the coast path from Holywell Bay, past Chick Rock, where seals can often be found playing in the waves, around the headland and down the coast towards Newquay and you will find Polly Joke beach. A favourite with locals, this untouched beach has a river, which runs through it providing dogs with a great place to cool off.
Leaving Trevornick walk is approximately 2.6 miles taking 55 minutes.
Crantock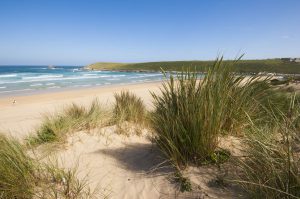 The next beach along the stretch of coast, still heading towards Newquay, is Crantock. One of the area's biggest beaches Crantock is renowned for its natural beauty and serene estuary that stretches inland towards the town. Take your windbreak and towels and enjoy a fun-filled beach day here.  Drop into the Bowgie Inn on your walk home with its scenic views, dogs are welcome in the beer garden where you can admire the spectacular sea views.
Starting from Trevornick this walk is around 3.8 miles and takes 1 hour and 15 minutes, it follows the previous walk to Polly Joke along the SW Coast Path adding an extra 30 minutes to get to Crantock.
Ellenglaze
Starting at the bottom of Holywell Bay a footpath leads walkers around meadows, along lanes, across fields and over stiles up through the valley to the village of Cubert. Enjoy some fish and chips or a pub lunch at the dog-friendly Smuggler's Den Inn.
Approximately 1.5 miles taking 40 minutes.
Perranporth
Starting at Holywell and scaling the coastal path towards Perranporth you'll enjoy close up views of Gull Rock as you walk along the cliff tops to one of the regions biggest beaches at low tide. Once you complete your journey enjoy a refreshing drink at the UK's only bar on the beach, The Watering Hole!
Leaving from Holywell Bay this walk takes around 1 hour and 29 minutes and is 4.2 miles.
Pop into reception to ask for directions before setting out on your walk and always remember to check the tide times when walking near coastal areas. Don't feel like venturing too far? Let your four-legged friends run free at Trevornick's very own dog walking field.
Our pet-friendly camping fields and family tents are a short scamper from the golden sands of Holywell Bay, where dogs are welcome year-round. One-third of the camping pitches, our cottages, a selection of Euro Tents and static caravans are pet-friendly here at Trevornick meaning owners can still enjoy a holiday with style.
Check out our pet-Friendly Stays or call reception on 01637 830531 for any dog related questions.