Hollywood or Holywell Bay…
The beloved beach, which is just a 15-minute walk away from the site here at Trevornick, has seen many things on its shores… including a famous face or two.
Most recently was last April and September when HBO Max set up camp at the National Trust car park in Holywell Bay for the filming of the highly anticipated Game of Thrones prequel, House of The Dragon.
Viewers of the show spotted the beach in scenes featuring Matt Smith (who plays Prince Daemon Targaryen) and Milly Alcock (who plays young Rhaenyra Targaryen). The sweeping sands were also used as a backdrop for battle scenes with locals spotting numerous prop weapons on the shore line.
View this post on Instagram
This hasn't been the only time Holywell Bay has hit the big screen! With world renowned actor Pierce Brosnan filming the opening scene to James' Bond film, Die Another Day on the beach too.
We of course have to mention our very own favourite – Poldark. Running for five seasons the cast and crew of Poldark were seen many times here at Holywell Bay, with some of our Trevornick staff lucky enough to meet Ross Poldark (Aiden Turner) himself!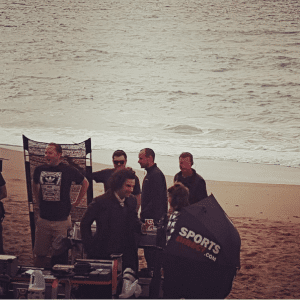 Back in October 2019 filming speculation started up again, this time with horses and actors dressed in medieval costume giving them away. The filming for a Netflix series called Cursed had begun and Trevornick staff headed down the dunes to see what it was all about. With a large set up, we could see horses galloping across the cliff edge with added smoke and explosions – looking breath taking in real life we are sure it looked even more dramatic on screen!

Who can blame the film makers for venturing to Cornwall for dramatic backdrops to their scenes? We all know there's no better view than the sandy dunes of Holywell Bay with the striking Gull Rocks out at sea!
Have you seen any famous faces whilst on holiday at Trevornick? Let us know in the comments (with photos if you have those too!)