Octobonanza Here We Come!
What better way to crush the summer blues than to get excited about Trevornick's extraordinary October half term extravaganza!
We're gearing up for a week of full-throttle entertainment from the 21st to the 28th October, with theme nights, live music, party games, bingo and much more to make sure your half-term break is a blast.
There will be an assortment of day time adventures for children of all ages to get involved in, from high adrenaline Wild Trak and explorative wild rambles to creative UV costume making and our Terrorvornick Fright Night disco!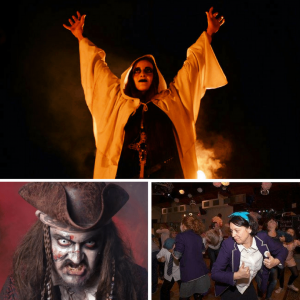 As well as our morning activities, we will have daily competitions running to fuel your competitive side, including our popular pumpkin carving competition, so don't forget your carving tools!
It wouldn't be a Trevornick Octobonanza without some top-notch live evening entertainment! Welcoming back some of your all-time favourites, Jamie Gifford, Sarah Devonshire and Arnold Gutbucket, as well as new faces including Louise Jones.
What are you waiting for? You can book now for only £99 for a family of four and enjoy all this extraordinary Octobonanza excitement!