Secrets of Holywell Bay – Cornwall
Holywell Bay is situated on the North coast of Cornwall, a 15 minute walk away from us here at Trevornick. This bay has a long history and many secrets, keep reading to find out more.
Did you know Poldark is filmed here?
Yes. Aiden Turner has stepped on our beach many times during the filming of the 4 seasons of BBC's Poldark. Many Cornish beaches are used throughout the making of Poldark but none as much as Holywell Bay which is used for many opening shots and as a backdrop to Ross and Demelza's dramas.
September is the month they film here in Cornwall, so if you're staying with us then it's the perfect time to sit in the dunes on Holywell Bay and watch some live Poldark!
Click here to learn more about Poldark.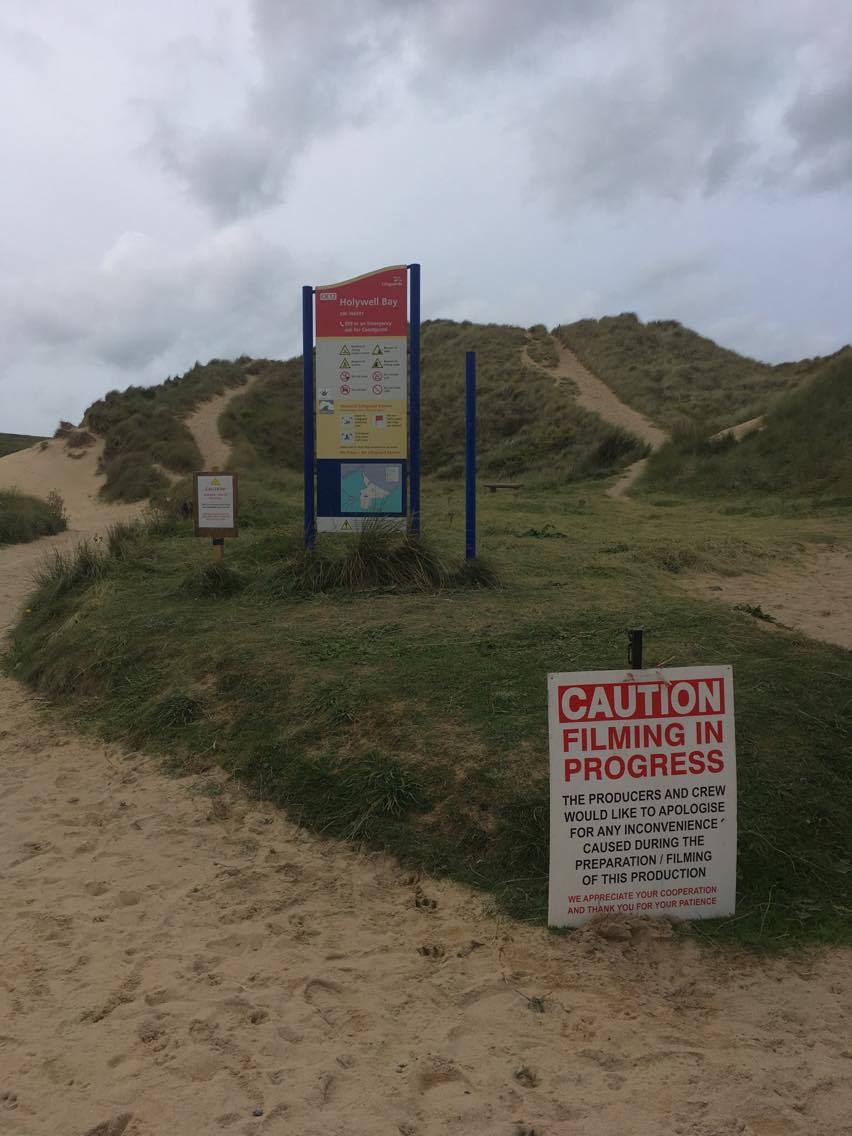 Discovering the Holy Well
Found in the grounds of Trevornick, this natural spring has been a religious place for many years. Why not take a walk around the golf course next time you stay with us, and try to find the Holy Well for yourself?
Click here to learn more about the Holy Well! 
Why are the Gull Rocks called Gull Rocks?
The large rocks you can see off Holywell Bay are known as either Gull Rocks or Caters Rocks. The name Cater Rocks comes from the famous smuggling brothers Harry, Charles and John Carter.
Exploring Holywell sea caves
The ancient rock formation, stalagmites/ stalactites was once believed to have healing powers and people would travel from other countries for its water.  If you do visit the caves on Holywell bay remember to stay safe and watch the tides.
Can you spot the shipwreck at low tide?
When the tide is low the wreck of an old Argentinian ship can be seen offshore as the waves break. Explore this mysterious shipwreck on your next visit to Trevornick.
Why not come and explore Holywell Bay yourself? Use Trevornick as your base, take the 15-minute walk over the dunes or drive 2 minutes to the National Trust car park and spend hours on this beautiful Cornish beach.
Not only do Trevornick have camping and touring pitches but to make holidaying even easier, they also have pre-pitched Eurotents and brand new Static Caravans! Call us on 01637 830531 to talk to one of our reception team or book online at www.trevornick.co.uk