Things to do with teenagers in Cornwall this summer
Family holidays are filled with excitement, but keeping teenagers entertained throughout the duration can often be as challenging as solving a complex puzzle. If you're planning a summer getaway with restless teenage companions, fear not! We've crafted a carefully curated guide, packed with thrilling adventures, adrenaline-pumping experiences, and opportunities to slow down and savor life's moments.
Our hand-picked recommendations cater to all budgets, ranging from cost-free activities to paid experiences, ensuring there's something for everyone. Prepare to be busy as we take you through Cornwall's exhilarating adventure parks, buzzing surf spots, and our wealth of on-site activities awaiting you at Trevornick. With such an array of options, the hardest decision you'll face is choosing which adventure to embark on first.
Join us as we unlock Cornwall's secrets and unearth unforgettable experiences, leaving your teenagers enthralled and eager for more. Let the excitement begin, and prepare for an unforgettable holiday!
Things To Do In Cornwall With Teenagers – Paid or Ticketed Experiences
Surf School – Holywell Bay
Our number one choice for the adventure-seeking souls, trace the winding dunes from Trevornick Holiday Park onto the soft sands of Holywell Bay to find the surf school. Take to the turquoise waters with their highly experienced team of instructors to conquer the ocean and embrace the heart-thumping thrill of catching a wave. Because after all, have you really holidayed in Cornwall without giving surfing a go? As if that weren't enough, Holywell Surf School is currently offering a free t-shirt to all first-timers that book with them in 2023 to commemorate the experience. Surf's up!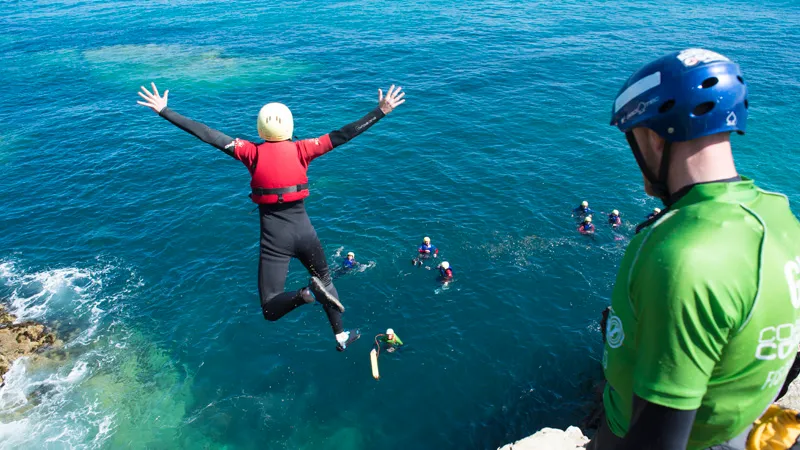 Photo Credit: Newquay Activity Centre
Coasteering – Newquay
There's no better way to explore the secret coves and hidden nooks of Cornwall's stunning coastline than by water; coasteering opens up a side of our craggy cliff sides you may not have known ever existed. Led by a friendly, knowledgeable team, coasteering with Newquay Activity Centre, you know you and your family are in safe hands. Jump into crystal clear waters to embark on an action-packed afternoon of discovery. 
Golf at Trevornick
If your teens prefer to keep their feet on solid ground, our dynamic land-based activities right here at the park are guaranteed to captivate their attention. One of our favourite things to do on site is play a spirited game of golf: from crazy golf to the real deal, we've ensured all ages and abilities can get lost in a game or two. After all, we're all about family, it's at the heart of what we do. 
Photo Credit: TR7 Newquay
Mini Golf at Trevornick
Skate park – Newquay
Got a skater in your tribe? Concrete Waves is possibly one of the UK's best skate parks, undergoing a major transformation in 2018 that wowed Newquay residents and visitors alike. Consisting of four separate areas: a retro-style pool, expansive street run, stair set and an internationally significant bowl, the park has been intentionally designed to welcome all abilities and disciplines (including professionals!). Perfect for any skater-kids in training who fancy a bash. 
iBounce – Newquay
We can't name anything more fun than a day spent bouncing around! iBounce offers wall to wall trampolines, dodgeball, a giant airbag, fitness classes (if you fancy it) and is suitable for all ages from toddlers plus, meaning the whole family can give it a go. Up for a day of pure joy and fun, anyone?
Photo Credit: iBounce Newquay
Photo Credit: St Eval Kart Circuit
Go Karting – St Eval
Engines on… ready, set, go! St Eval has the largest karting circuit in the whole of Cornwall. Located between Newquay and Padstow, this impressive track offers the ultimate karting experience and caters for all ages (from 3+). Featuring a family circuit designed to cater for 12 year olds and above, a dedicated cadet circuit for 7-11 years olds, plus an adult only track, St Eval ensures all ages safely stay in their lane. You'll need to pre-book your place on the grid though, so be sure to do so before you head there.
Aqua Park
A one-stop-shop for water sports, Retallack Resort saw your water-based fun day out needs and raised it with a Flowrider: the only one in Cornwall. With everything from their giant inflatable obstacle course to wakeboarding and surf simulator, you're spoiled for choice. Plus, if adults don't really fancy facing total wipeout on the wake park, you can keep watch from the sidelines sipping a cool cider.
VR Bar – Newquay
Step into the immersive world of virtual reality at Newquay's VR bar. Whether you're going competitive or cooperative, the VRcade offers a whopping 40+ different realms of experiences; the virtual world is your oyster here! Pilot planes, zoom around in supercars, plot your way to freedom in escape room lock-ins, dance your socks off, play life-size games of Angry Bird… the list goes on and on. We can hear the hollers of "eat my dust!" already.
Fishing trip – Newquay Harbour
Newquay Harbour in itself is a must-visit destination on warm, hazy days, but for a truly one-of-a-kind day out on the water, taking a fishing trip is a hard to beat experience. Off the shores of Newquay your skipper will point out playful pods of dolphins, minke whales and diving sea birds, plus the cheeky resident harbour seals are likely to say hello. Back on land, the harbour street food pop-ups serve up tasty treats from waffles to stone-baked pizzas and of course, fresh seafood. Fancy casting your lines and making a catch?
Photo Credit: Paddlefish Adventures
Padstow to Wadebridge Camel Trail
Things To Do In Cornwall With Teenagers That Won't Cost A Penny
Paddleboard The Gannel
We appreciate the importance of balance and serenity while on holiday, and not all teens fancy fast-paced activities (parents too!). So for a more leisurely day, we highly recommend drifting atop the tropical waters of the River Gannel that leads to beauty spot, Crantock Beach. On blue sky days the scenery along this river is quite frankly, breathtaking. With lush greenery climbing up on either side of this wide-stretched ravine and turquoise waters underneath your paddle board, there are plenty of hidden little craggy outlets to climb onto for a pit stop should you wish to sit and admire for a while. There are plenty of venues around Newquay that offer SUP hire. Including The Big Green Surf School found on Crantock Beach.
 Walk the Coast-Path
Lace up your shoes, pick a direction and head out to stomp the South West Coast Path, it's right on our doorstep! We're blessed that England's longest waymarked trail just happens to be smack bang in front of us. The fantastic thing about walking the coast path means you decide how little, or how long you make the hike. Spot slumb
ering seals, pick out lighthouses in the distance, admire the shifting colours of the ocean below, and definitely pack a picnic to tuck into chunky ham sandwiches beside the blushing sea thrifts.
The Camel Trail – Wadebridge to Padstow
Stretching for a whopping 18 miles, The Camel Trail is a mainly flat, traffic-free, not to mention breathtaking trail that can be hiked, horse-ridden or cycled. Suitable for wheel-chair users, little riders with stabilisers and pram-friendly sections, the trail is accessible to all, following a disused railway line between Wenfordbridge, Bodmin, Wadebridge and Padstow. For a breathtaking day out, we'd recommend hiring bikes and speeding off on the Wadebrige to Padstow portion. Offering an opalescent sea as a backdrop, this division of The Camel Trail flaunts panoramic views of the glittering estuary and lush countryside, plus, there are plenty of pit-stops along the way to indulge in an ice-cream.
Football Golf – At Trevornick
Experience the perfect fusion of football and golf at Trevornick, where the exhilarating sport of football golf takes centre stage. This is an unforgettable adventure for both football enthusiasts and golf aficionados alike. Combining the skills of precision, technique, and teamwork, football golf presents a unique challenge that guarantees endless hours of fun for families and friends. Our course has been strategically designed to test your aim and accuracy as you kick, chip, and score your way to victory. Whether you're a seasoned player or a beginner, football golf is a fun activity that promises laughter, camaraderie, and unforgettable memories. Lace up your boots, grab your football, and get ready for a kick about.
Whatever you fill your days with while holidaying with us, we strive to ensure every family member has an unforgettable stay at Trevornick Holiday Park. All we ask you to do, is pack your sense of adventure and embrace the spirit of Cornwall.
Cover image courtesy of Cornish Wave.