Three Dog Walks Not to be Missed
Taking the dog for a walk is one of life's greatest pleasures. We love dogs, and your four-legged friends love Trevornick too!
Located on the South West Coast Path and nudging the open grassland of Cubert Common and the Holywell dunes, Trevornick Holiday Park is perfectly situated for coastal dog walks. Hike over the cliffs to Perranporth and Polly Joke, wander through wildflower meadows or hop inland to meander across moors and weave through woodland. Whether sniffing around the rock pools or bounding through the countryside, your pooch will be as delighted as you are at the walking opportunities on offer right on your doorstep. Avoid the heart-wrenching farewell at the kennels this year and enjoy a dog-friendly holiday in the heart of the North Cornish Coast.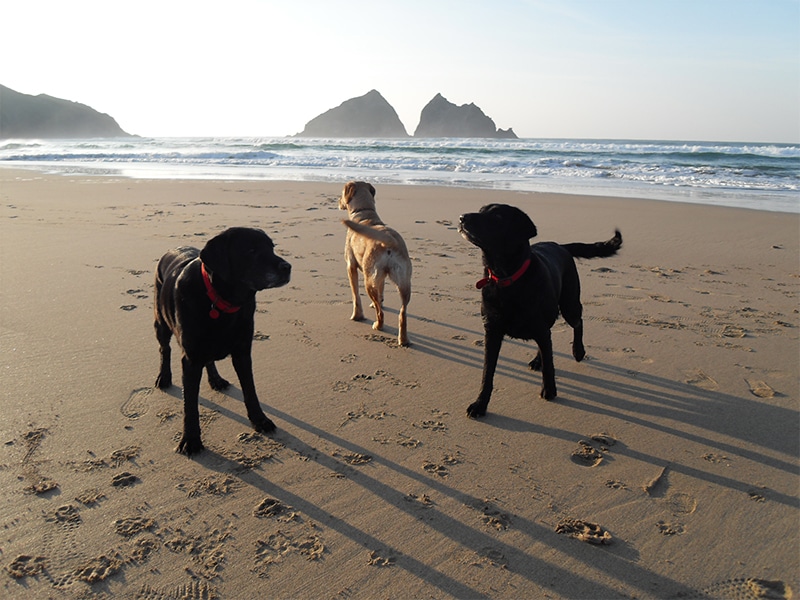 Circular Walk: A Trio of Dog-Friendly Beaches
(4 miles)
Cover three dog-friendly beaches and two pit-stops! An unforgettable circular stroll from Holywell Bay to Crantock and back again.
Directions:

Leaving Holywell Bay, walk up around Kelsey Head (look out for the ancient Iron age hill fort) and over to Porth (Polly) Joke beach where there are countless caves and rockpools for you to explore. Continue on the South West Coast Path towards Pentire Point West and admire the stunning far-reaching sea views.
As you leave the headland, heading for Crantock, you'll see a pub (The Bowgie Inn) and a pretty cafe called C-Bay just ahead of you. Stop for a well-deserved drink, coffee, cake or lunch before making your way down onto Crantock Beach.
Here, dogs can let off some steam on the huge expanse of sand – make sure you check the tide times and go at mid-to-low tide.
After a game of fetch on the beach, make your way back through West Pentire Headland before heading back towards Holywell on an inland path which leads you back to your starting point in the Holywell sand dunes. Arriving back at Trevornick, what better way to round off the day than a cool drink at Woody's Bar & Restaurant!
Holywell Bay to Perranporth
(7.5 miles)
This stunning coastal dog walk takes you from Holywell, out around Penhale Point and onwards to beautiful Perranporth where you will find a fresh water pool inside a small cave for exploring, and a vast stretch of golden sand. Dogs are welcome all year around at Perranporth, however during July and August dogs are required to be on a lead between 10am and 5pm on the main beach, so please take note if visiting in summer months.
Directions:

A real exploration of the senses for both you and your four-legged friend, this walk will have tails wagging. The route starts here in Holywell Bay and then follows the rugged coast around Penhale Head to reach Ligger Point where there are panoramic views over Perran Beach and the breath-taking St Agnes coastline. 
Walk along the soft sands of Perranporth Beach until you reach The Watering Hole – Britain's only pub on the beach (well-behaved dogs welcome). Re-fuel with a hearty lunch before starting the return route across Penhale Sands which is famous for its swathes of wildflowers and butterflies.
Newquay and Fistral
(4.5miles)
This is a moderate dog walk which offers you and your pet the chance to sniff out many sites of historical interest either side of The Gannel. Your dog will love running along the beaches and sniffing through the sand, just make sure you check the tide times before you set out as The Gannel Estuary is tidal and so parts of this walk won't be accessible at certain times of the day.
Directions:

Starting in the pretty village of Crantock, this walk leads you to Newquay's vibrant shoreline! Start at the National Trust car park of Crantock Beach. Take the path on your right through the dunes where you'll arrive on the beach. In front of you, you'll see a small ferry to take you to the other side of The Gannel.

Or, if the tide is right out and it is safe to walk across, make your way to the ferry landing point at the foot of the Fern Pit Cafe. Climb the steps up past the cafe, turning left at the top on Riverside Crescent to walk to the car park on Pentire Point Headland. Pick up the South West Coast Path to walk above Lewinnick Cove (make sure you enjoy a refreshment in the dog-friendly bar at Lewinnick Lodge) before carrying on to the world famous surf beach Fistral.
Either walk along the sandy beach or take the path perched above the beach where you can soak in the sea views. Continue on to Little Fistral where if you've timed it right, you can watch some of the best sunsets in Cornwall.
From here, you can either make your way back following the same route (please be careful of the tide) or catch the bus from Newquay back to Crantock village.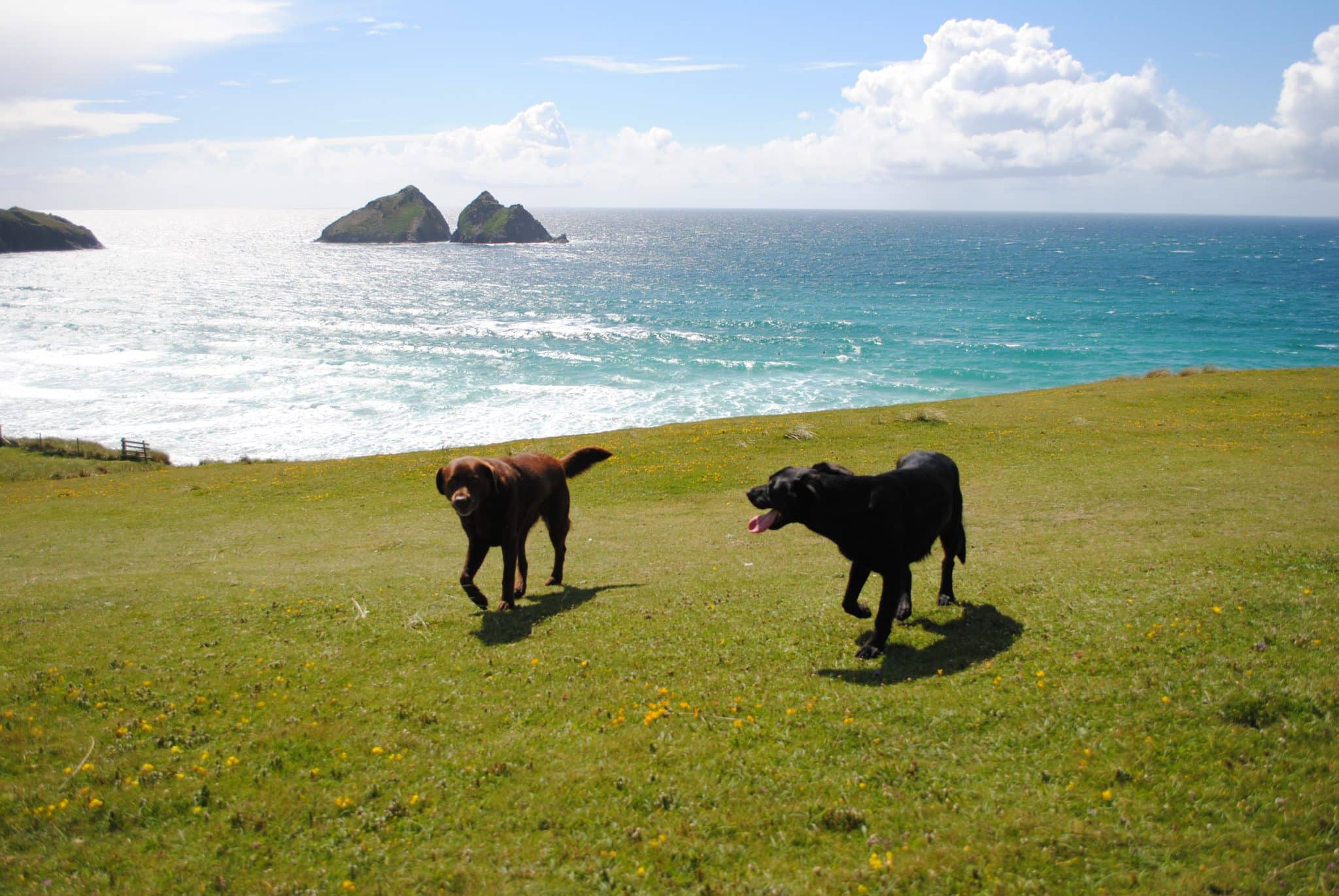 A Note On The Canine Code
Wherever you choose to walk with your dog whilst staying at Trevornick, please just remember to adhere to the National Trust's canine code so that everyone can enjoy this beautiful natural playground. 
We can't wait to welcome you and your four-legged friend here at Trevornick. If you've enjoyed a dog walk which isn't mentioned here, share it by tagging us in your Facebook and Instagram posts.