Wild Thing Recommends: Newquay Leisure World
Wild Thing is out of hibernation and ready to roam! This week he's been visiting our friends at Newquay Leisure World to check out the Fun Pool.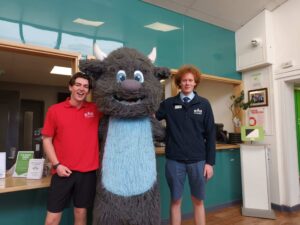 Just 11 minutes' drive from Trevornick and close to Newquay's bustling town centre, Newquay Leisure World makes a fantastic day out for kids ready to burn off some steam! With a 25m pool, Fun Pool, Trampoline Park and Soft Play there's plenty of fun for active kids, and all just a stone's throw from Newquay's beautiful Trenance Gardens and play park, with ample parking and right on local bus routes (you can even pick up the iconic Newquay Land Train here!).
The Fun Pool is a popular attraction with both locals and visitors alike, and Wild Thing can see why! The Happy Hippo Flume is a gentle ride ideal for little ones, whilst the Extreme Orange Flume is a more daring helter skelter ride through two loops in and outside the building! The bubbly volcano looked like great fun for diving in and out of, and Wild Thing was certainly tempted to jump in ('til we reminded him how long it takes to dry his hair).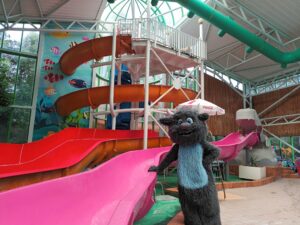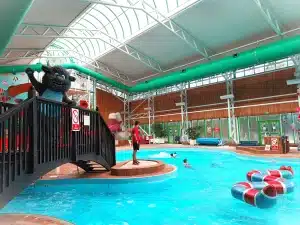 The shallow end of the Fun Pool has spitting snakes, great fun for little ones still finding their swimming confidence, and the snakey theme continues with Sally the Slow Snake if you fancy a ride further out!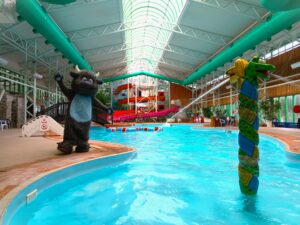 Wild Thing and all the Trevornick Team are delighted to be partnering with Newquay Leisure World this Easter to offer one lucky family a free ticket (for 2 adults and 2 children) to the Fun Pool and Trampoline Park, kicking off our 60 Ticket Giveaway as part of our 60th Year celebrations throughout 2023.
Wild Thing has had a fabulous day, and is proud to recommend Newquay Leisure World to all his young friends at Trevornick!
Want to read about Wild Thing's visit to the Trampoline Park? You can find it here on our blog.
Don't forget to keep a watch on our social media pages for more details of the 60 Tickets Giveaway throughout 2023.